Please cast your vote for one of the amazing sites located here.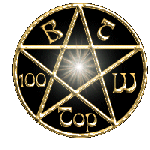 Thank you

To view this site in the fonts it was made in, please download this RealmFonts zip file, and install them into the fonts folder of your windows program.
Merry Meet
Bide the Wiccan Laws we must
In Perfect Love and Perfect Trust.
Live and let live,
Fairly take and fairly give.
Merry meet and merry part,
Eight words the Wiccan Rede fulfill:
An ye harm none, do what ye wil.


Hello and welcome to my caverns, I am Ayresta Yentari. My companions are those you will find on the following pages. This site was created to bring knowlage to those who seek. The following pages were written mainly by myself, and taken from various locations on the internet. If you see any of your work here please e-mail me and let me know so I can agknowlage your work. If you want to place a link on your site to this realm please feel free to upload the above banner to your site and link to it there, remember it is bad karma to link to anothers server.
And for all those who have patiently waited, I have a picture of myself somwhere on this site. You just have to find the right page.


Here's something brand NEW!!!
I just finished setting up a message board for The Caverns
And here is another new addition.


You are the
th soul to drift through these caverns since Jan 16, 2000.